Gatorland is a 110-acre theme park and wildlife preserve that features thousands of alligators and crocodiles, including the world's largest collection of giant white alligators. In addition, Gatorland also offers a reptile show, aviary, petting zoo, nature walk and water splash park.
Looking for more adventure? The Screamin' Gator Zip Line features over 1,200 feet of high-flying thrills across a pool of alligators and through various other parts of the Gatorland park.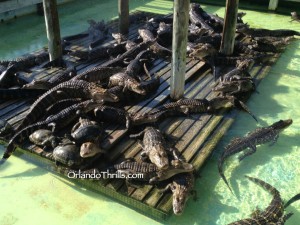 Shows
Gator Jumparoo Show
Gator Wrestlin' Show
Up Close Encounters
Discounts & Deals
View a list of all available Orlando discounts and deals
Gatorland is located at 14501 South Orange Blossom Trail in Orlando, Florida. For additional information or to purchase tickets, call (800) 393-5297 or visit http://www.gatorland.com/.